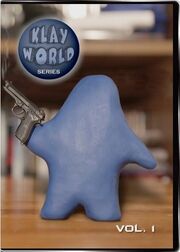 This article refers to Klay World the series. For Klay World the location, click this link.
Klay World is a stopmotion series made by Robert Benfer that lasted over ten years from early 2003 to late 2013. The first episode was called The Seed and the final episode was Klay World: All Gone. The series had one feature length film called Klay World: Off the Table.
Episodes
Main Article: List of Klay World Episodes
There have been 67 episodes in the official series with an addition 40 episodes also under the klay world title. This adds up to a total of 107 episodes.
Ad blocker interference detected!
Wikia is a free-to-use site that makes money from advertising. We have a modified experience for viewers using ad blockers

Wikia is not accessible if you've made further modifications. Remove the custom ad blocker rule(s) and the page will load as expected.