Klay World Bank is Klay World's first bank. It consists of a banker standing at a table with stacks of Moneys on it, and like all other places in Klay World, is outside. The bank is robbed almost immediately after opening. Klay World Bank only appears to have Moneys in the form of banknotes, and doesn't have a vault or safe to store them in. There are no ATM's at the bank, and all transactions are performed in person with the banker (although only one withdrawal is completed before the bank is robbed).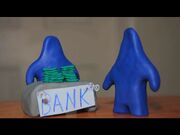 Appearances
Bank Robbery
Red and Green
Ad blocker interference detected!
Wikia is a free-to-use site that makes money from advertising. We have a modified experience for viewers using ad blockers

Wikia is not accessible if you've made further modifications. Remove the custom ad blocker rule(s) and the page will load as expected.