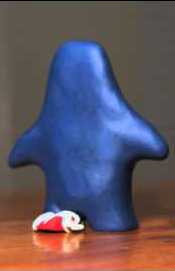 Mike is a Klayman with 1 shoe. He is just trying to tie his shoe, when some guy walks up and asks about his green sunglasses. Mike tells him not to touch his sunglasses. When the guy takes them, Mike goes to get a lawyer to sue the thief.
He quickly finds lawyer David Stacks, to sue the thief for 500 moneys. The thief then got his own tie, and sues Mike and David for all the money's they have. Distressed by the outcome of the proceedings, Mike rips himself in half.
Size
Height: 2 Inches
Weight: 100 grams
Appearences
Ad blocker interference detected!
Wikia is a free-to-use site that makes money from advertising. We have a modified experience for viewers using ad blockers

Wikia is not accessible if you've made further modifications. Remove the custom ad blocker rule(s) and the page will load as expected.