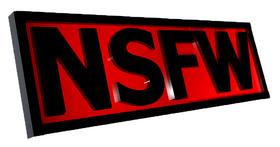 NSFW show is a fifteen-minute internet based show broadcasted on the Youtube channel
NSFW show Music Series
and on
TWiT TV
.. It dedicated an episide to
Robert Benfer's
music video
Fish Stick Sandwich Burrito
. In this the hosts as well as four filmed viewers had to create and eat robert's fish stick sandwish burrito. As they ate Robert personally sang the song. He was asked to return for the episode
Robert's Victory Juice
. On this episode he and the two hosts played the internet game Captcha Phrase or Foreign Celebrity?,
wherein unusual names are presented and you must judge whether the name was generated by captcha or is an actual celebrity name. Robert wagered his identity, his neice, and all his possessions on his answers. He lost and consequentally forfeited it all to Brian Brushwood, one of the hosts. They then went to Fiverr.com were robert spent five dollars on a dinner made in the home of Brian Brushwood. The episode finished with Robert eating raw cookie dough which was prepaired in accordance with his Fiverr purchase.
Ad blocker interference detected!
Wikia is a free-to-use site that makes money from advertising. We have a modified experience for viewers using ad blockers

Wikia is not accessible if you've made further modifications. Remove the custom ad blocker rule(s) and the page will load as expected.