The Salad Monster is the assumed name of an unknown Klayman. He covered his head and shoulders with salad in a failed attempt to entertain his friend, as he just said "Stop playing with your salad.". Shortly afterwards, the Karate Master did a cartwheel in that cut his friend in half. He then kicked the Salad Monster in half. The Salad Monster was the third of the Karate Master's seven victims.
Size
Height: 4 Inches
Weight: 113.4 grams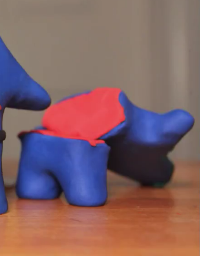 Appearances
Klay World: Karate Master
Ad blocker interference detected!
Wikia is a free-to-use site that makes money from advertising. We have a modified experience for viewers using ad blockers

Wikia is not accessible if you've made further modifications. Remove the custom ad blocker rule(s) and the page will load as expected.