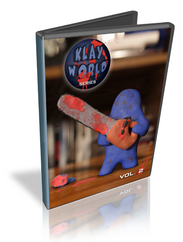 The Klay World Series: Volume 2 DVD was a product realesed by Robert Benfer. It is a DVD about the Klay World Series. It was realesed in the Regular Edition, Limited Edition, and Silver Klayman Edition. It followed Klay World Series: Volume 1 DVD.
Regular Edition
The Regular Edition included...
All the episodes from 2008-2011
Sleep Walker
Big Bad Uncle
The Trick Master
The Bet
The Fad
Fun Pole
A Nice Day
The Surprise
Funny Sticks
Nap
Slappers
A Dangerous Stunt
Secret Sniper
The Huge Muffin
Grenade Gregory
Dan's Head
The Murderer
Dr. Bob Saves the Day 2
The Climb Down
Henry's Shotgun
Poison Juice
KLAYTON
Klay World Moves
Comentary on every episode
The "Behind the Klay" featurette
The History of Klay World Part 2
The Regular Edition is sold for $10 at the Benfer.com/Store.
The Limited Edition
All The Episodes
Behind The Klay (EXTENDED)
More Joe Cam Footage
CCF Interview with Robert Benfer
More Klay World Episodes
A Signed Case
And a Signed Insert telling you what # copie you got.
Only 500 of the Limited Edition were made. You can still order yours as of August 1 2012. Go to the Benfer.com/store to order yours for $23.
Silver Klayman Edition
Limited Edition
A Hardened Silver Klayman
It was sold at the Benfer.com/store. It is not for sale at this time.